Tata Textile Mills Limited
---
---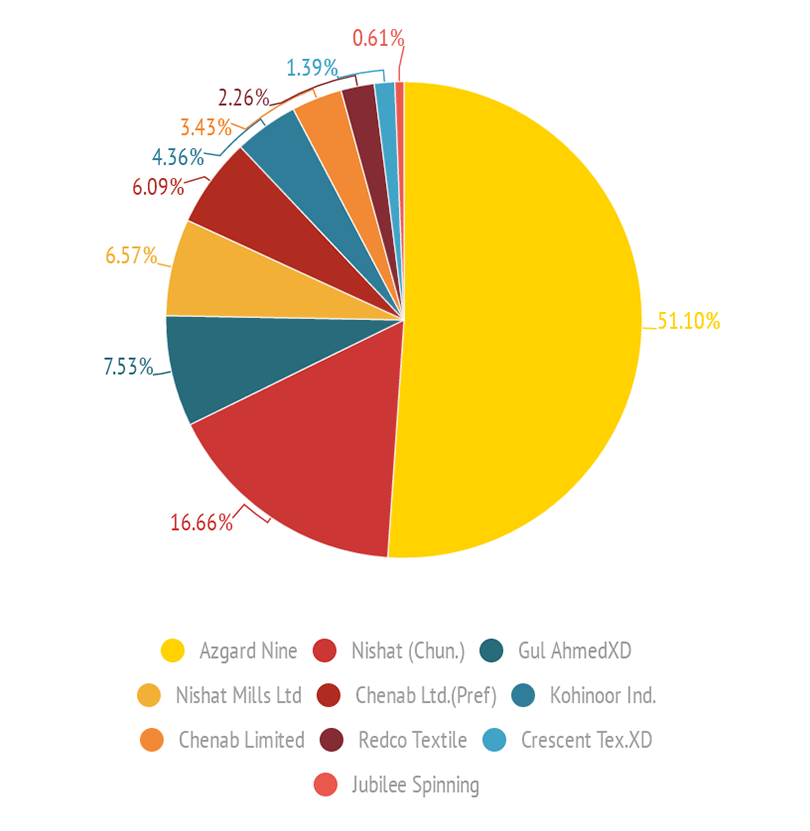 Textile Mills
LDCP
Open
High
Low
Current
Change
Volume
Azgard Nine
7.62
7.71
8.45
7.70
8.24
0.62
11,449,500
Nishat (Chun,)
50.02
50.68
52.52
50.12
52.52
2.50
3,734,000
Gul Ahmad XD
49.02
49.40
50.95
49.01
50.00
0.98
1,687,000
Nishat Mills Ltd
146.86
148.69
151.40
147.51
148.75
1.89
1,479,300
Chenab Ltd.(Pref)
2.41
2.35
2.55
2.31
2.42
0.04
1,364,500
Kohinoor Ind.
8.54
8.51
9.20
8.46
9.00
0.46
976,000
Chenab Limited
6.86
6.80
7.35
6.76
7.21
0.35
769,000
Redco Textile
6.22
6.40
6.90
6.40
6.68
0.46
506,000
Crescent Tex.XD
30.51
30.51
31.00
30.00
30.30
-0.21
311,500
Jubilee Spinning
6.46
6.60
6.75
6.34
6.50
0.04
137,000
Dated: 30-09-2016
Source: KSE
TATX.KA on Pakistan Stock Exchange
Price Change (% chg)
Prev. Close
Day's High
Volume
52-Wk High
Rs 37.87
Rs -.–
-.–
Rs 37.94
37.87 PKR 3 NOV 2016 EST
Rs -.– (-.–%)
Open
Day's Low
Avg. Vol
52-Wk High
Rs -.–
Rs (-.–)
7,845
Rs (21.38)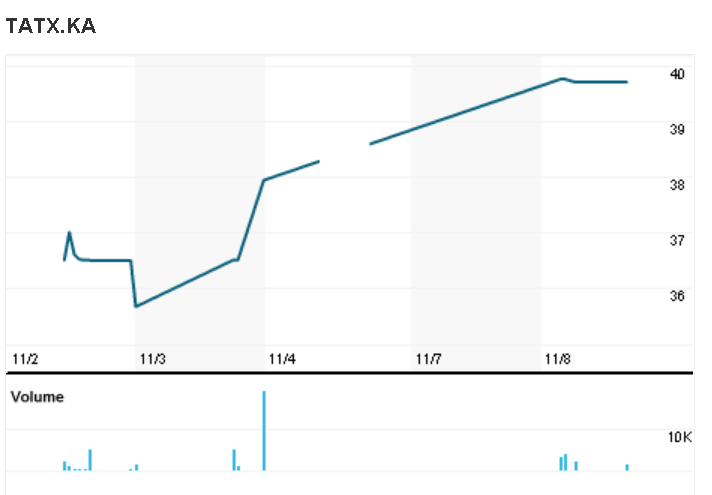 ---
TATA Group is a leading player of textile industry in Pakistan. It has acquired a status which is desired by many but achieved by a few. The industrial side of the group took a concrete shape with the acquisition of Island Textile in 1981. As the years passed by TATA Group is today one of the most modern yarn manufacturing organizations in Pakistan. We are fully equipped to meet both domestic as well as International clients' requirements.
TATA Group with its various interests is rolling ahead with drive and determination to be the best in all the areas it operates. Backed by a high density of advanced technology and sophisticated manufacturing facilities, it's only natural that the Group is leap fogging for an outstanding future.
TATA group is being managed by highly qualified technical as well as management professionals – some of them coming from leading business school from within and outside Pakistan.
Whatever the future holds for us, our aim is very clear and simple – We will deliver more than what we promise. We will keep our fundamental correct and we will keep our brand as symbol of quality in all what we manufacture.
Today the mills run on 24 hour/365 days basis. TATA is considered one of the finest brands in the international yarn markets. No wonder TATA is the only brand the knitters and weavers ask for.
Mission & Vision Statement's
Mission:- We are committed to the higher expectations of our customers. We strive for the production of best quality yarns for high value products.
Vision
While keeping fundamentals correct we shall build upon our recognition as a very good company known and established for our principled and honest business practices and higher quality standards with niche products and specialty items with a sustained growth in our capacities.
---
TATA Textile Head Office
6th Floor, Textile Plaza, M.A. Jinnah Road,
Karachi, 74000
Pakistan
P: (92-213) 2426761-2-4 & 241-2955-6-7
E: headoffice@tatatex.com, exports@tatatex.com
TATA Textile Mill Address
10th km, M.M. Road, Khanpur, Baggasher,
Muzaffargarh
Pakistan
P: (92-661) 490 192-3, 490 198
F: (92-661) 490 067
Overall
Financials
Beta
–
TATX.KA
Industry
Sector
Market Cap (Mil.)
Rs –
P/E (TTM)
– –
80.36
26.58
Shares Outstanding (Mil.)
–
EPS (TTM)
– –
–
–
Dividend
–
ROI
—
4.31
8.94
Yield (%)
–
ROE
—
6.41
12.25
Source: PSX
Source: PSX
| | | | | | | | | | |
| --- | --- | --- | --- | --- | --- | --- | --- | --- | --- |
| Open Rate | 0.00 | High | 0.00 | Bid Volume | 5,000 | Bid Price | 35.98 | 53 Wk High | 37.87 |
| Current Rate | 37.87 | Low | 0.00 | Offer Volume | 1,000 | Offer Price | 37.05 | 52 Wk Low | 22.36 |
| L.D.C.P | 37.87 | Chg. | 0.00 (0.00%) | Volume | 0 | Mkt. Cap (m) | 0.00 | Ostdg. Shr (m) | 17.32 |
| VAR | 18.5 | Haircut | 22.5 | Circuit Brk. Up | 39.76 | Circuit Brk. Low | 35.98 | Free Float (m) | 6.06 |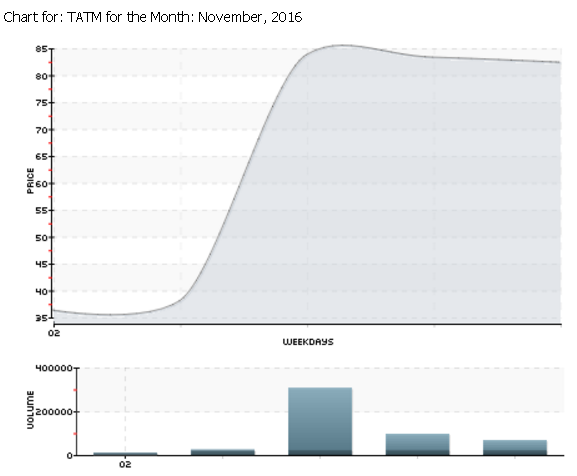 ---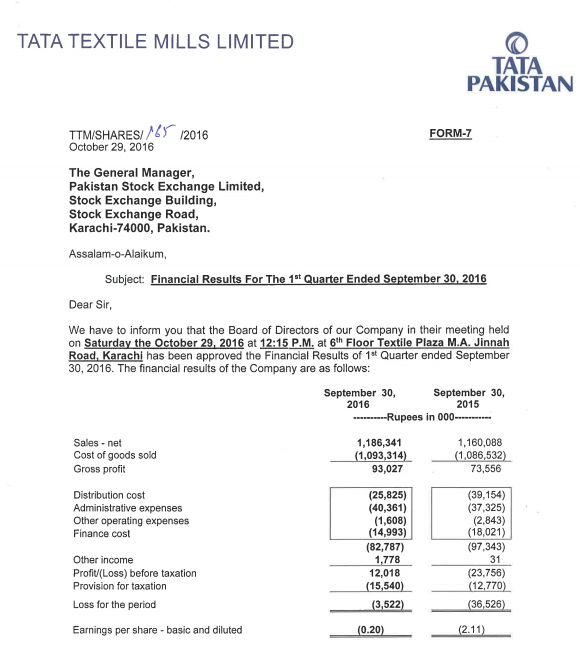 Date
Year ended / Half Year ended
Dividend / Bonus / Right
Profit / (Loss) Before Taxation (Rs. in Mn.)
Profit / (Loss) After Taxation (Rs. in Mn.)
EPS (Rs.)
Annual General Meeting / E.O.G.M.
Closure of Share Transfer Books
20161031
30/09/2016 (IQ)
–
12.018
(3,522)
(0.20)
–
–
20160919
31/06/2016 (YR)
–
(160.365)
(194.416)
(11.22)
20/10/2016
12/10/2016 – 20/10/2016
20160502
31/03/2016 (11IQ)
–
(97,072)
(119.427)
(6.89)
–
–
20160229
31/12/2015 (HYR)
–
(28,725)
(39.922)
(2.30)
–
–
20151029
30/09/2015 (IQ)
–
(23,756)
(36.526)
(2.11)
–
–
20150921
30/06/2015 (YR)
10% (D)
48.126
1,160
0.07
21/10/2015
14/10/2015 – 21/10/2015
20150427
31/03/2015 (IIIQ)
–
36.413
3.912
0.23
–
–
20150227
31/12/2014 (HYR)
–
1.123
(16,979)
(0.98)
–
–
20141030
30/09/2014 (IQ)
–
(46.013)
(54.205)
(3.13)
–
–
20140922
30/16/2014 (YR)
10% (D)
124.521
101.021
5.83
24/10/2014
17/10/2014
20140428
31/03/2014 (IIIQ)
–
231.418
205.647
11.87
–
–
20140224
31/12/2013 (HYR)
–
273.805
261.835
15.11
–
–
20131031
30/09/2013 (IQ)
–
161.382
151,197
8.73
–
–
20130916
30/06/2013 (YR)
20% (D)
339.938
328.504
18.96
21/10/2013
12/10/2013 – 21/10/2013
20130429
31/03/2013 (IIIQ)
–
284,933
219.115
12.65
–
–
Source: PSX